Author Archive
Oct 4, 2022 The Walking Path
There are too many stories in the war against Ukraine to tell them all, and thankfully there are many photojournalists covering the most important stories. Sometimes you have to go to the zones yourself to share a perspective of the tragedy first hand. Going to Izyum was just such an experience. It was liberated only two weeks before and still in a state of shock upon arrival. The electricity was still out and the mission shifted to bringing in supplies to the vulnerable.
Photographing the town damage, the conditions and struggle to resume a normality is vital to the historical record. Words can't describe the experience as well as photos and video.
Aug 16, 2022 Photojournal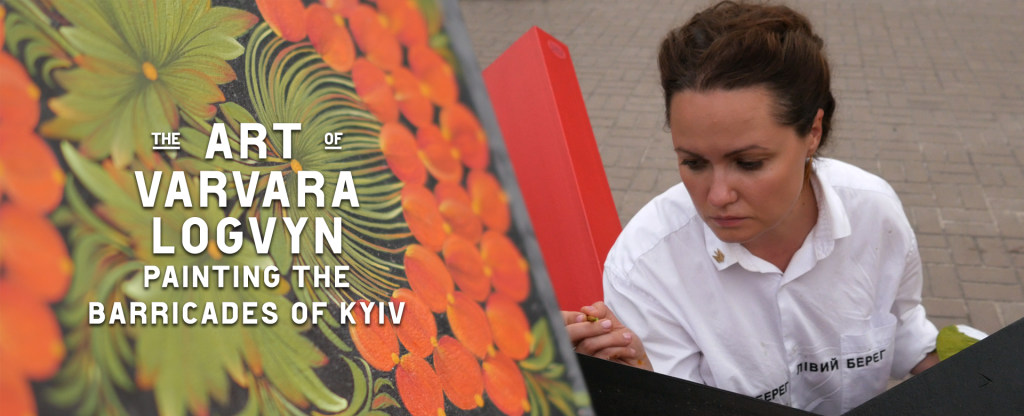 As the war against Ukraine hit the capitol of Kyiv in February 2022, iron barricades were placed all over the city to impede the invasion. By August 2022, the barricades were still there but in a sign of Ukrainian resilience, one artist decided to express the national identity in a way that is purely Ukrainian. The art of петриківський розпис (Petrykivskyy Rozpys) or painting from Ukraine.
The style was recognized by UNESCO as a "phenomenon of the Ukrainian ornamental folk art". Around the country you can see this art in every corner of life, but here it has a special significance that transcend the feeling of invasion. It unites the people who walk by and want to snap selfies, shoot video of the artist at work and appreciate the art of the country.
In Kyiv, artist Varvara Logvyn is bring this to the streets of Maidan in the Independence Square. Daily she sets up shop to paint the barricades in layer by layer detail. Each day brings a new texture, new tone and even in the rain, the work continues.
May 12, 2022 The Walking Path
It didn't take long after arriving in Ukraine to see how intrinsic the spirit of music was to the people of Ukraine. I was out for a walk with my friend when I passed under the main thoroughfare in Maidan area of Kyiv and saw a singing duo with a bandura, the national instrument of Ukraine. I tuned in and listened to them weave the vocal melodies with the beautiful layers of sounds coming from the stringed instrument. I took a quick video capture but it would be the next day I came back and recorded them playing a well known song written by Taras Petrinenko, Ukraina. It would be just one of my first yet lasting impressions of this fantastic country.
Music, my first language, is a vehicle for reaching other people. For most of my life I have been able to communicate quickly with people from all sorts of backgrounds via music. Ukrainian music is vast even upon first appearance and first impressions last a lifetime. Seeing Svitlana Verbeshuk playing the bandura was a great start.
After a day of wandering Kyiv, I saw a duo playing violin and guitar and was captivated by the melodic and rhythmic power of Freuman and Galaydyuk. The melodies were fusion of traditional and jazz. I knew I had to get to know these two fellows. I didn't have to ask, "do you have Instagram?" because the musicians already had their tip jar out with their account posted in easy to read text. This, I found, would be the pattern as I traveled around the country.
Busking, the job of street performance, is a very old tradition in human history and widely found across the globe. But in Ukraine, it is as common as coffee. You don't have to look far to find someone who has taken their talents to the street corner and found a place to set up a tip jar and a chance to turn their love of entertainment into a profession for the tourists and locals alike.
And while the art of making music in the street may be a common factor for Ukraine, there was a war going on by February 2022 and it was in that context that I met a violinist from Bucha named Yaroslav Borovskyi. His family was displaced to the west and now he made his income via tips in the park in Lviv. While playing to a backing track, Yaroslav spends hours playing for tips to a passing audience of Ukrainian internally displaced people who still drop small amounts of money in his violin case.
Like many other musicians from the east, Yaroslav was just one of the many street musicians who regularly hit the street with case open to collect tips from passersby as he plays covers of popular songs mixed with traditional songs that express the Ukrainian spirit. And like the other musicians, even when there are air-raid alarms, the music doesn't stop.
The national instrument of Ukraine is the bandura (Бандура). It is a combination instrument that mixes aspects of the lute with a fixed pitched multistring zither. It has been a part of Ukrainian culture for at least 600 years with a history of lute instruments dating back well beyond 1500 years.
The instrument was so associated with Ukrainian identity that a long history from the tsars to Stalin have sought to eliminate the bandurists from the world. (list of persecuted bandurists)
The first instrument I saw performed in Kyiv, is widely available to experience around the country but in Lviv, where it is safest for now, there are many artists who are performing for the people who are displaced, for the incoming visitors and for those who hide in the bunkers to avoid bombs.
I have seen several soloists and a few ensembles performing around Lviv including Svyatoslav Hrytsak who was performing at a corner not far from Rynok, the UNESCO heritage center of Lviv. His voice and playing had all the qualities of a bard and brought timeless emotion to the ear. 
You can also enjoy the quartet of bandurists. In this clip, we hear the song Chervona Kalyna, a song that has become an anthem of resilience. The group also performs in this area of Lviv not far from Rynok. Their voices weave so well with the strings in their hands.
In a great interview with journalist Philip Ittner, we were fortunate to see Arsem perform an original composition for bandura in the bomb shelter below Lviv. His astounding prowess on the instrument was hypnotic.
He conveyed a story through sounds. He had been studying for 6 years and now he had to share this beneath the structures above because of the invasion by Russia.
The strings ring with voices of all the bandurists who were murdered a century ago.
STRING MOCKINGBIRD
The sounds of String Mockingbird can be heard nearly daily in Lviv. Whether they are just blocks from the Rynok center or standing strong in front of the Lviv Opera House, this trio brings you a great performance. The ensemble features Pavlo Krip on electric upright bass, Bogdan Khmara on violin, and Nikita Kozhukhar on drums. Each musician has a solid command of their instrument. The crowd listens as they play songs of Ukrainian pride or contemporary pop songs from Cranberries or U2.
BESKD – The Traditional Sounds of Ukraine
This is music that keeps me passionate about exploration. It will never become the music of the past alone. Ihor Matselyukh and his wife perform on accordion and violin near Rynok square and are frequently part of traditional celebrations. I additionally saw them lead a larger folks music ensemble for Easter festivities. Ihor and I talk about the importance of Ukrainian music and culture and how vital it is that the war comes to an end and the peaceful life of Ukraine must resume.
FORCE MINOR
I saw this group get ready to set up along the plaza and knew from before they belted out the first notes, it would be a set I would enjoy but I still underestimated the umph I would feel when Force Minor dropped it on us. Students from Lviv, they had a vibe and feel that was infectious from the start. Loaded with youthful zest, yet timeless soul, these young musicians had exactly what it takes to get the onlookers to stop, throw money in the case and even start dancing.
Kostia and Markiian Lukyniuk and Adrian Savchuk
With Ukrainian flags as capes, these two brothers on violin were joined by Adi Sax (Adrian Savchuk) on sax to entertain the audience outside of Grand Cafe in Rynok square. They know how to charm the audience. Their music chops match their performance energy and the crowd returns the joy with a big round of applause before the local officers shut down the performance. But don't worry, just two hours later they were blocks away at the Lviv Opera House with another crowd eager to see their energy in motion.
SARAT KISO
While instrumentalists are very active in Ukraine, the busking culture is loaded with singers who play daily and draw sizable audiences around the cities. Sarat Kiso is an incredible performer who shows us how it is done with his command of the guitar, his looping equipment as he layers vocals, guitar parts and puts on a great show that keeps the audience captivated from start to finish.
DASHA SHADURSKA
She has a depth of spirit beyond her years. Dasha sings with power that should bring her a very successful music career. Whether singing Billie Ellish or Skryabin, she has full control over her performance. When she isn't performing as the main act, she quickly shuffles over to the cajon to accompany her friends with solid rhythms.
ROMAN VASILYEVICH
Roman is a fantastic singing performer who plays in Lviv around the shops near Rynok square, in front of the Opera House, or down Liberty Avenue (проспект Свободи or prospekt Svobody) plaza. His vocal power and guitar accompaniment is solid.
VLADIMIR BANDARAS
You just don't get better than Vladimir Bandaras, a real blues musician who entertains with an arsenal of tunes that stretch from Muddy Waters, Bob Dylan to AC/DC. I first heard him playing Thunderstruck by AC/DC and couldn't believe it. Then I saw him playing slide on his small guitar and his amp outside the shops near downtown. He had a soul that was all too familiar to me as a southern lad who grew up listening to the real deal blues masters. I told him, "from Texas to you, you have the real soul of a bluesman".
MENS CHOIR SINGS NATIONAL ANTHEM
If there is one thing I have enjoyed most in Ukraine, I will never run out of moments to be surprised. While I was on my way to meet a friend for coffee and discuss serious issues, I saw this mens choir wrapping up what appeared to be a fairly impromptu performance in Rynok square. To cap off their appearance, they sang the Ukrainian National Anthem.
TRADITIONAL UKRAINIAN CHOIR
While documenting easter celebrations in Lviv, a group of young singers converged outside to perform several selections of traditional music. Accompanied by percussionists, the ensemble's vocals tied the past to the present and reminded us what Ukraine offers in the area of culture and identity. The young people played and danced in the area around the church as the group filled the space with layers of voices that will remain timeless.
The Sacred Sounds of Bells
THE SOUND OF BELLS IN LVIV
I was out for my afternoon scouting and told my friends I had to stop and make my way over to the church because I knew at 6pm, the bells would ring in the evening. I stood there recording when a jovial man stepped up and tried to tell me something about the bells. I had trouble at first knowing what his intentions were until the phrase, "I work the bells" came through. Petro, the kind hearted man, then invited me to come document the bells. What I didn't know at the time, I would be part of the event. It a volunteer driven program to keep the authentic tradition alive and well. Local members of the community come to the church and together produce the greatest sound you can hear. Dyakuyu, Petro!
Apr 28, 2022 The Walking Path
I didn't come to Ukraine to photograph destruction but I knew it was a possibility. Traveling back into Kyiv after the opening weeks of the war, we saw destruction everywhere. A hotel on the highway was destroyed, cars were shot to shreds, and destroyed tanks and APCs were all around. This was a preview of what we'd see as we came to tour the outskirts of Kyiv.
Going on to Bucha, Borodyanka and Makariv, we could see the devastation of what the Russian war was doing to civilian residential towers, shops and communities. The smell of war was all around.
Mar 10, 2022 The Walking Path
In February 2022, I spent the month traveling around Ukraine. Time in Kyiv, Lviv, Uzhharod, and other fascinating towns showed me deep roots and sense of identity. The people were super friendly, very accommodating and worth every moment spent. Unfortunately, looming over us was the threat of war and war arrived the day I left. But, I wouldn't be gone long. Before I write that second chapter, lets look at some of the photos I was fortunate to take in round one. For more posts, check out my
Instagram page
May 12, 2021 The Walking Path
There's nothing like a pandemic shutdown to help you appreciate outdoor activities. In 2020, the inability to go out in public settings changed how we used to do things. In 2019, I went out for two days and took over a thousand photos of these great flying machines and burned my legs on the sandy beach so bad, I couldn't walk for nearly two weeks without pain. Yet, I got the shots I wanted on my first air show round. In 2021, it was a chance to see if I could do it again, this time without the sunburn.
The highlight of the show are the amazing Navy Blue Angels, but long before they come out, you have the display of vintage aircraft, rescue aircraft and the fantastic stunt pilots like Kirby Chambliss and Michael Wiskus. The Blue Angels are masters of formations but so are the Geico Skywriters. In all, there are over 3 hours each day of incredible flying, amazing power, and good old fashion fun.
Apr 27, 2021 Photojournal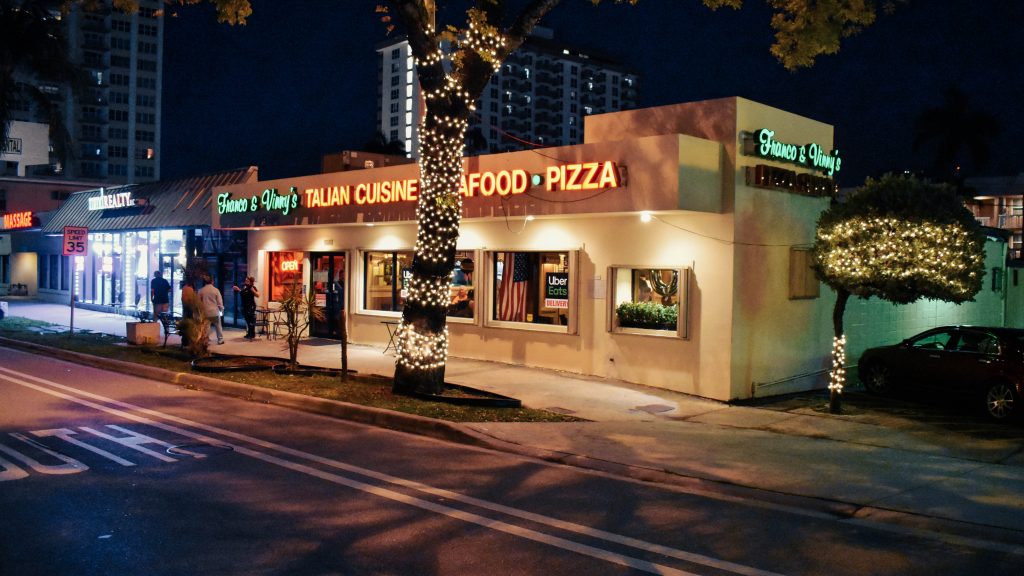 There are few establishments in the country that will ever see the longevity of Fort Lauderdale's Franco & Vinnys Pizza Shack. Established in 1971 by Francesco "Franco" Esposito and Vincenco "Vinny" Esposito, the Italian restaurant was just over a block from the paradise of Fort Lauderdale beach. When you entered, the walls on the entry were filled with photographs and memories with a bar and kitchen to the right, fish tank to the right before you enter the dining area. It was an evening place, only open from 4-11pm.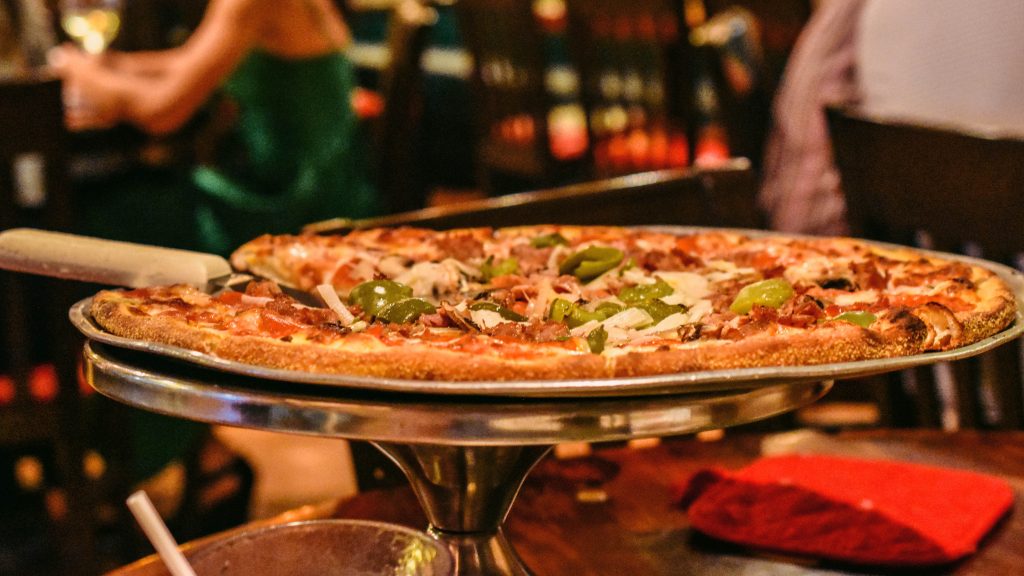 Over the years, the brothers purchased more property around the original shop including the building that would be the Mexican Cantina for many years until it shut down during the coronavirus pandemic of 2020.  In September 2014, Franco died of a heart attack. Years later, his brother decided it was time to go out in style.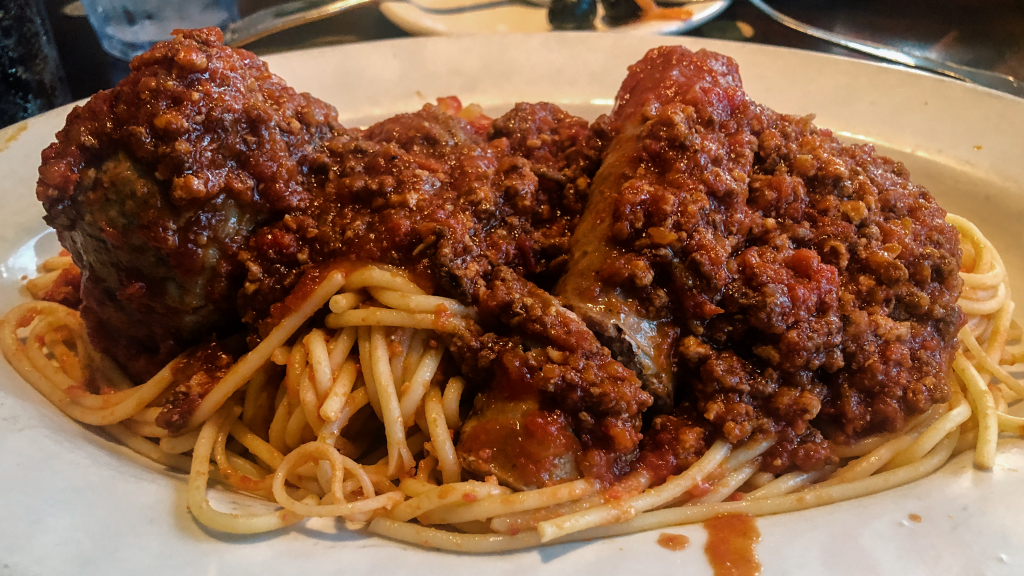 Before its time to close, there are guests to feed. Many, like myself, have no long story about years gone by, the old days, or some sentimental moment to recall which made it easier to digest the depth of love and respect this unique place held for many locals and tourists alike. For my friends, there were memories of sitting with the father years ago and enjoying pizza. For another, memories of sitting with her daughter, and soon to have more memories with another daughter as both enjoyed the last night with some Prosecco to toast Vinny's retirement.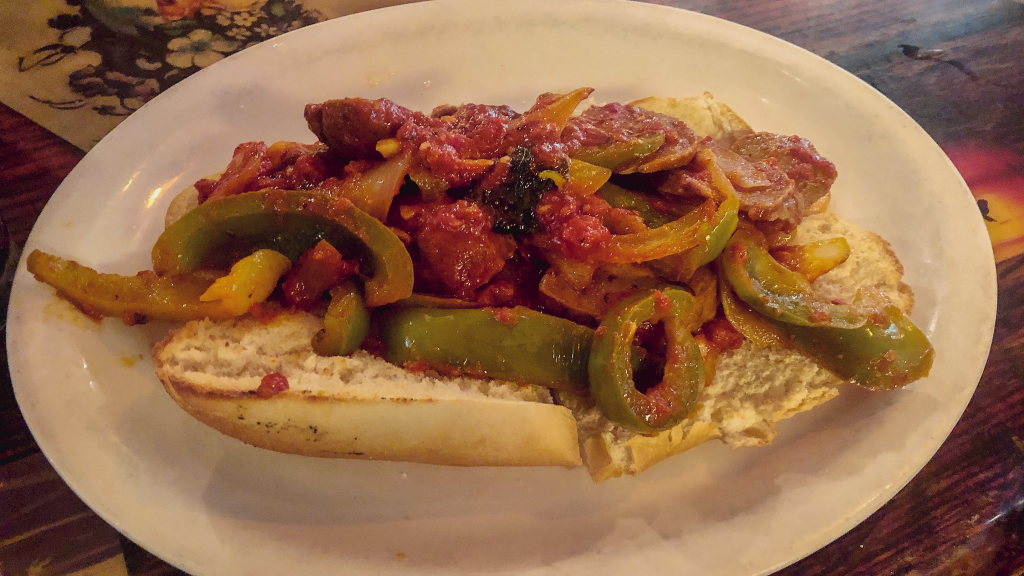 While many guests were locals, I heard many say they made it a point to come eat at Franco & Vinnys when they were in town. One guest was from Colorado and said he never missed the opportunity to stop through and was sad to see it go, but gave Vinny a big smile and said 'thank you for all the years'.
The atmosphere of the final weeks was somber yet thankful. Certainly with all the division in our society over politics, places like this rise above those petty partisan and tribal bickers to unite people in food and drink. I'll mainly remember the root beer. In the final weeks, we went nearly every night to enjoy the different dishes once again or for the first time. Start, with a straightforward plate of spaghetti with meatballs, meat sauce and sausage.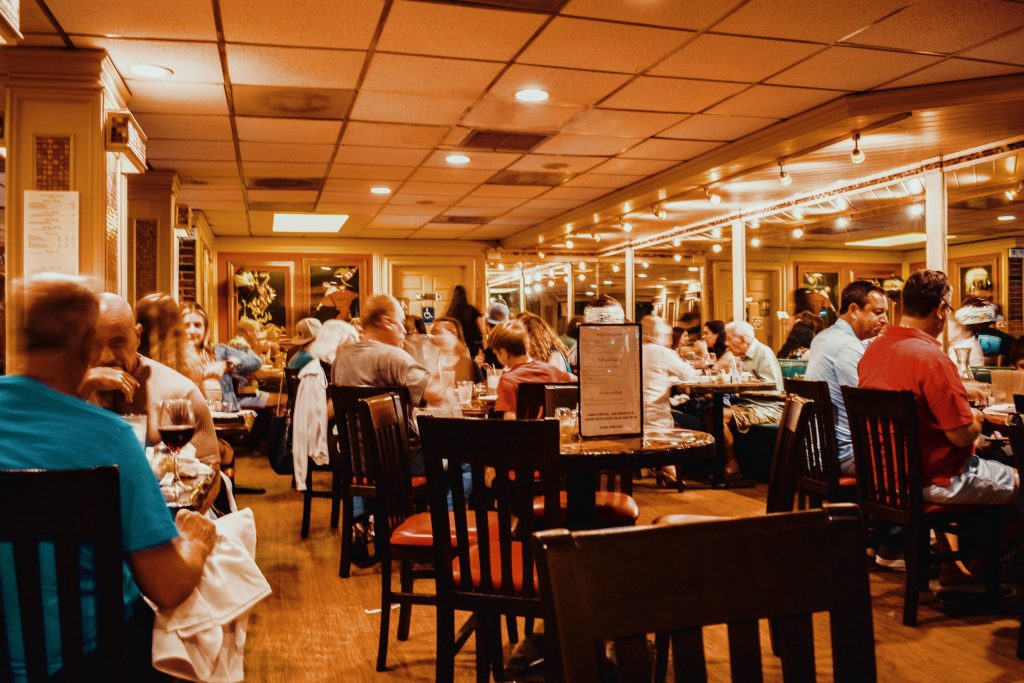 As easy as it was to simply keep ordering the fantastic Shack special pizza (the equivalent of a Supreme anywhere), the pasta dishes were fantastic. The Carbonara was a favorite with my friends. They also enjoyed the Manicotti. The Mozzarella sticks were delectable. And the deserts were never a disappointment, but without a doubt the Tiramisu was delicious every time.
The time to close came on April 25, 2021 and the guests were treated to some of Vinny's retirement party cake as friends and family gathered around including his wife, Caterina.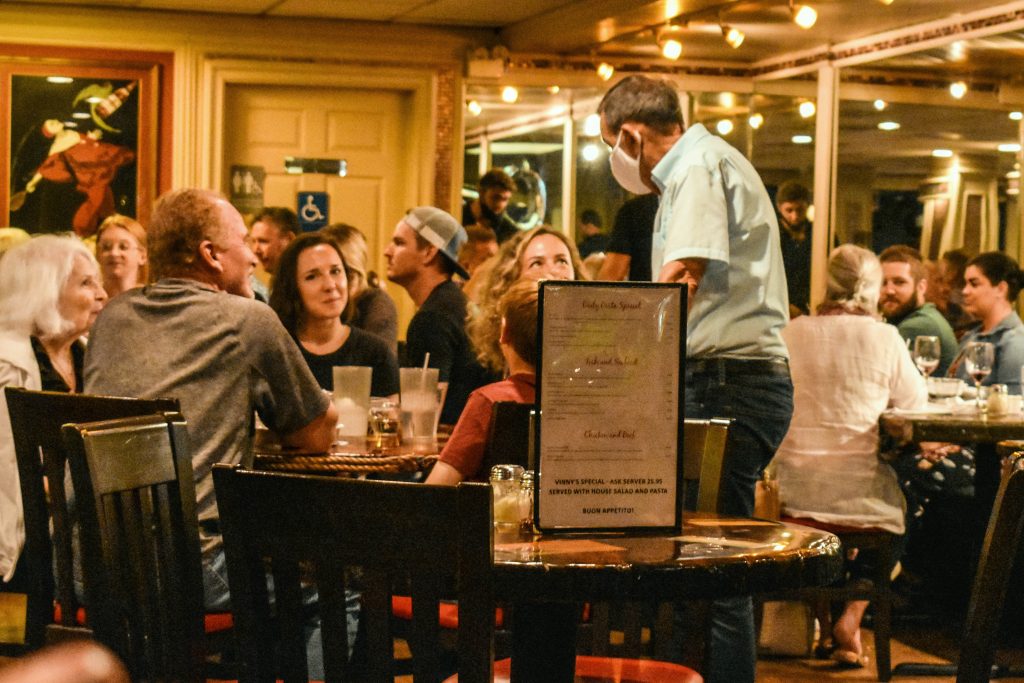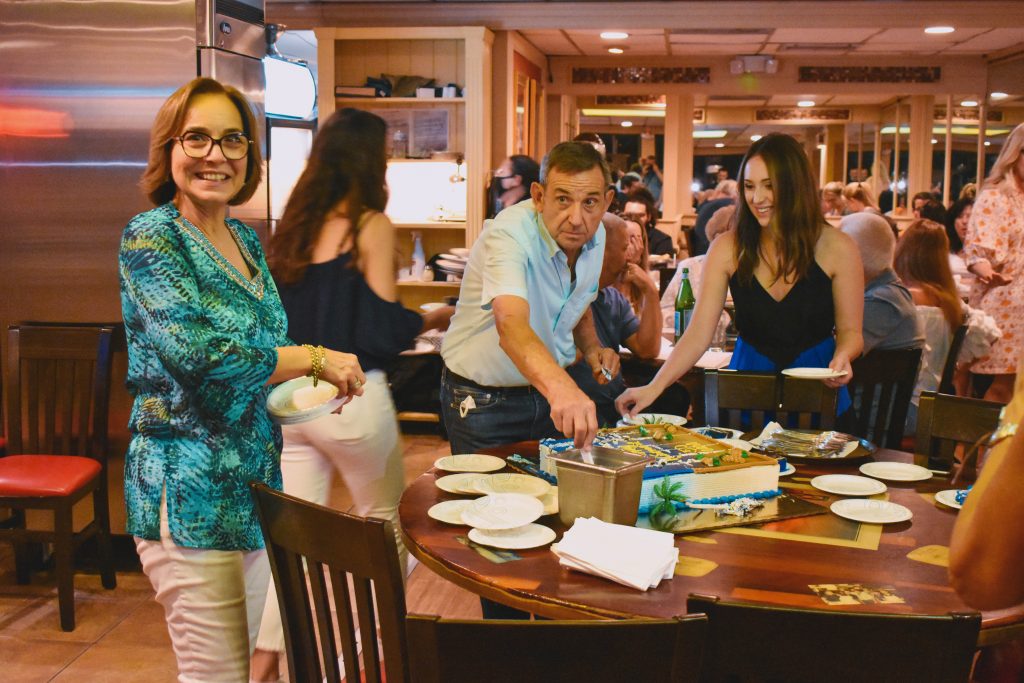 To the end, Vinny was still checking on his guests. He wanted to make sure everything was just right. I'm honored to say I'll never forget when he came to our table weeks before close and served us slices fresh out of the oven. It had a quality of generosity not commonly found in restaurants anymore. Vinny was a straight-forward talker when he visited with you and seemed to know precisely when to get back to the grind of the kitchen for other guests.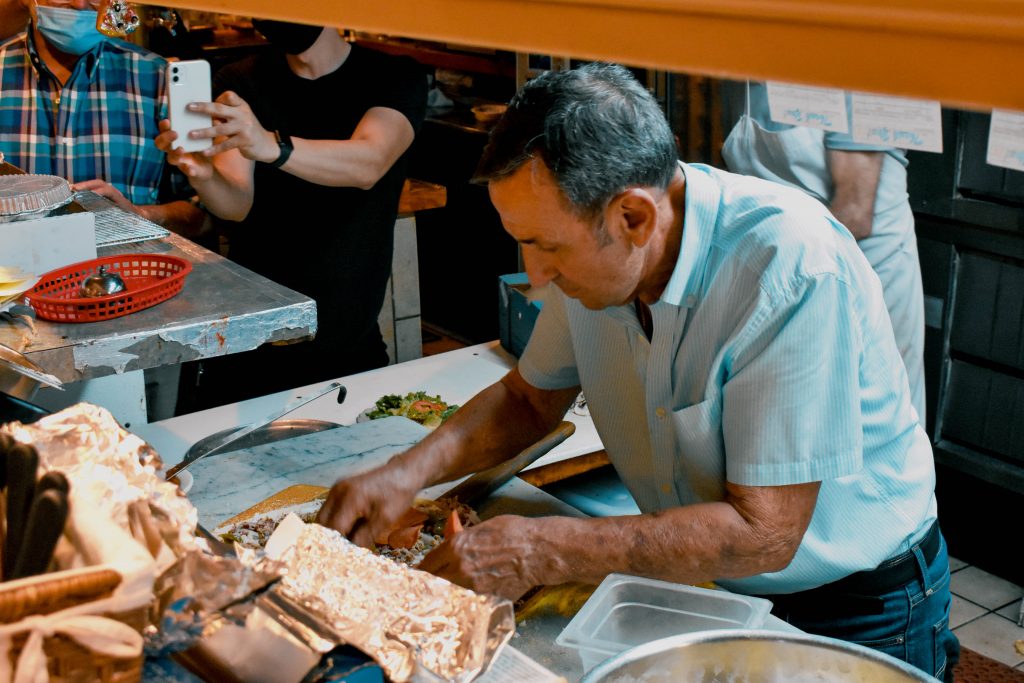 And as the clock neared 10pm on that final night we all gathered around to watch as Vinny prepared the last pizza his place would serve and showed us all what hard and steady work brings together, a strong sense of family, community and respect. Good job, Mr. Esposito. You made a great legacy for yourself and went out in style.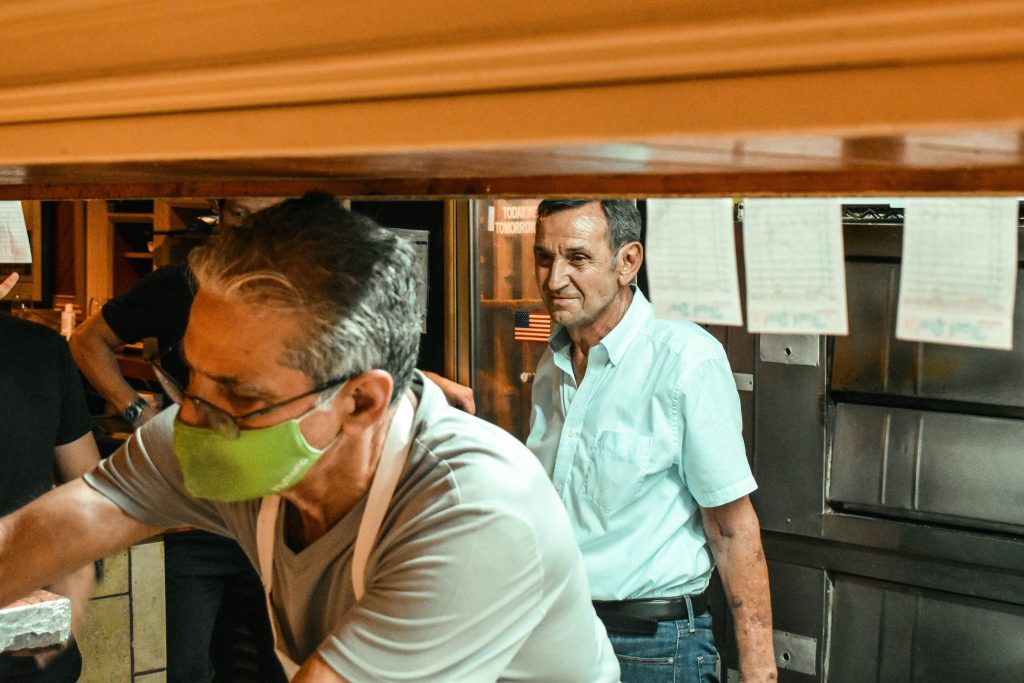 Jun 4, 2020 Photojournal
I've attended many protests in my life but only a few have turned to chaos. In Fort Lauderdale, a protest was held in Bubier Park at the corner of Andrews and Las Olas, a very prominent street in Fort Lauderdale's downtown area with high end shops and at the base of a new high rise condominium building. Bubier Park has an entertainment complex with amphitheater and large field for events. It is directly across from the NSU Art Museum.
Previously, the protest was planned for the Lauderhill area of Fort Lauderdale but apparently permits were denied and this was the next option.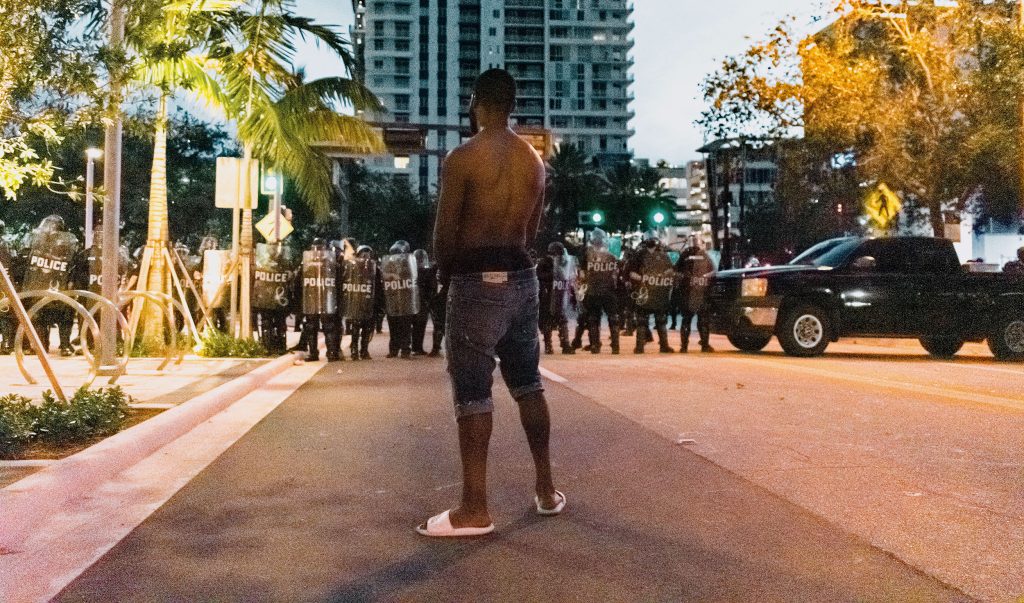 Tags: Protests
Sep 27, 2019 Photojournal
I've been very interested in architecture shots for a while as it reinforces my interest in design. When we had a chance to visit Eastern State Penitentiary in Philadelphia, I was quick to add it to the list but not sure how it would fit in my schedule of seeing various buildings before I departed. Fortunately, I had a few hours to look around and see and it did not disappoint in learning and growing as a photographer interested in capturing feeling and depth of experience. These walls have stories we will never know but a few that were logged for their tour. If you're in Philadelphia, stop in and see this historic facility.
Jun 6, 2019 Nature Photography
One of the pleasures of photography this past year has been in taking photographs of animals and then trying to get very specific on the species and breed of the animal in question. Birds have been a big part of that fun and there are no shortages on how many bird types I can photograph. From the daily ibis flock, the hovering vultures, the elegant egrets and the squawky parrots that fly by, there is a beautiful range of birds to enjoy.
After photographing a bird I've never seen before comes the hunt for exactly which bird it is. I remember one of the first birds I wanted to discover was a strange bird that had a long neck that looked like a snake once it was swimming around under the water surface as it hunted for food. The Anhinga or snakebird or darter as its called is a peculiar water bird that sometimes stands with its wings spread out basking in the sun. I couldn't tell what it was doing at first, but ultimately it became a favorite to spot and photograph.
Another bird I was fond of finding after first running into one was called a Limpkin. It surprised me how quickly I was able to look it up and learn about it. Another water fowl, the Limpkins love to graze the shoreline of lakes and bodies of water. They often travel in small flocks apparently and keep to themselves in both manner and voice.
Green Herons are lovely too. Frequently found near egrets, it was one of the first species of water birds I noticed with my camera a year ago though I didn't know what kind of bird it was, with its recessed neck and features. But the more I noticed them, the more I photographed them.
Then came the Cormorants and their funny beaks. They keep in good size flocks and I often found them settling in trees in the evening. Their distinctive beaks make them easy to identify.
Each of theses birds was a treat to discover and in some cases very easy to identify. But some birds were going to take a bit more patience to learn their features to help identify them and I purchased a book on identifying birds to help out. You're never too old to start learning something new. One bird that inspired me to do this was the Yellow Rumped Warbler. The key identifying feature that helped me was that little patch of yellow below its wing.
I'm a big fan of cranes and egrets but didn't know the varieties I could find until I took the time to dig in and learn. Even if I knew the difference between them, I didn't know how wide their species differed or how to identify them quickly. But in time and enjoying the process, it became easier and easier to do so. When mating season arrives, they go into full bloom and it is a show to behold.
Few birds were as exciting to spot than the first time I noticed an osprey. It was hiding so far up a tree I almost didn't notice it and being in a bright sun, I figured it was a vulture up above me until I put the lens on it and snapped. The beautiful bird doesn't disappoint the eyes. Pictured in Lover's Key in Western Florida, this one was relaxing as the area was dominated by pelicans and gulls. Though I've seen a few fly past since then, this was the only opportunity I had to take a pic of this great sea hawk.
Speaking of hawks, pictured at the top was a great predator bird, the red tailed hawk. It is such a gorgeous animal that it was fun to follow one around a small lake one day as it hunted for small targets and posed in between. It eventually stopped worrying about my presence and focused on its food needs. Thanks for the posing!
A particularly playful bird I enjoyed watching was a small sandpiper that was jumping and bouncing around rocks along the river one day as I was looking for iguanas to film. I'd never seen one before but with its round little body this bird was almost like a cartoon in its demeanor and fun to film even as it flittered around the water.
Last for now, was the joy of playing with a Northern Mockingbird. Again I wasn't concerned with the breed of the bird when I first saw it, just tuning into it so I can take a good photo. This one was taking in the afternoon sun and minding its own business. Like the others, thankfully I have my telephoto and can get the shot without disrupting its daily routine.
Remember, the point of photography can and should be to have fun, to slow down, breathe, and take in the details around us. It shouldn't be a frustration. Whether it is a bird or other species, taking the time to explore and photograph these awesome animals is bound to be a learning process worth undertaking. Keep a small journal and write down what you learn including the species information and variations. Enjoy!